Uniting to support our local nonprofit community as they meet critical needs in Tompkins County 🧡
June 21, 2022
Give Gorges-ly Again!
Welcome back to all the donors who have generously given over the past eight years. During this Giving is Gorges, we have made it exceptionally easy for you to continue your support and help Tompkins County Nonprofits thrive!
Search For An Organization To Support
About Giving is Gorges
About Giving is Gorges
The purpose of this powerful giving experience is to unite our community members around causes in which they truly believe and support local nonprofit organizations doing important, impactful work.
Giving is Gorges, established in 2015 by a collaborative group, is now hosted by United Way of Tompkins County with Visions Federal Credit Union sponsoring the event on the GiveGab platform. As with all United Way donor designations, 100% of donor gifts will go to their chosen nonprofits.
On June 21 -- a powerful day and traditionally United Way's "Day of Action" -- we will collectively generate excitement and multiply resources for organizations doing great work all over Tompkins County. This is a unique opportunity to highlight how we can work together to share commitments and build a stronger sense of community.
Please help us spread the word about this impactful day as we continue to encourage Tompkins County to give gorges-ly.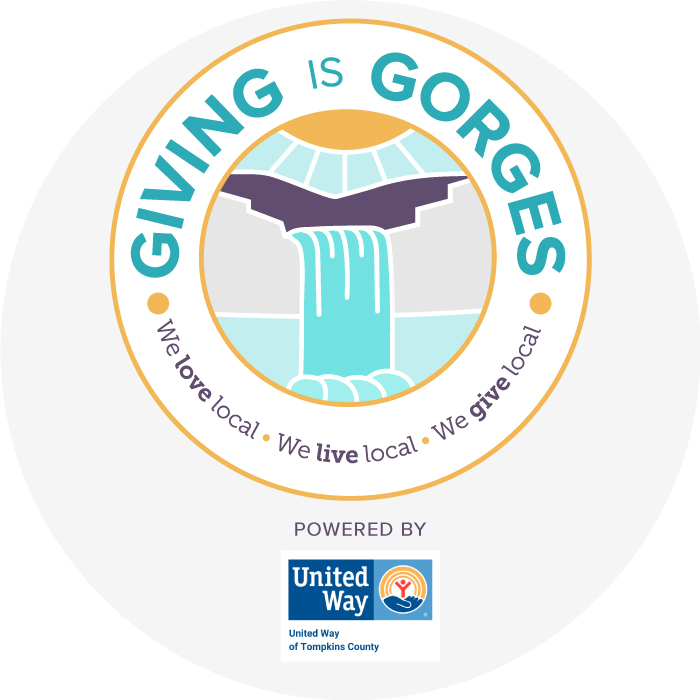 Leaderboards